Event Details
Date(s) 11/08/2021
Time(s)7:00 pm - 8:30 pm
From 2021-07-07 to 2021-08-25, Wednesday every week
Location
Aldershot Lido, Aldershot Hampshire GU12 4BP
Sessions become available to book at only one week before they occur, from 7pm, this is to give everyone a fair chance to book. 
Type: Open/Mixed Session
Suitability: All Levels / 8+ Years
Cars can be parked at the usual Lido Car Park and you can enter through the lido side gate.
Description:
The lido is a fantastic large venue for trying the sport for the first time or practising those skills you would prefer not to do at the canal.
Aim to arrive around 5-10 mins before the session time to provide a bit of extra time to get ready, you should only enter the venue when you can see that both a lifeguard and senior volunteer is present. You must ensure you register and collect a bib before getting changed with all members of your party present when registering. Our volunteers will do the best they can to get you on the water as soon as is possible, however you should only enter the water once you have, registered, a volunteer has ensured you have adequate and correctly fitted safety equipment and the duty volunteers in florescent orange bibs have said it is safe to do so.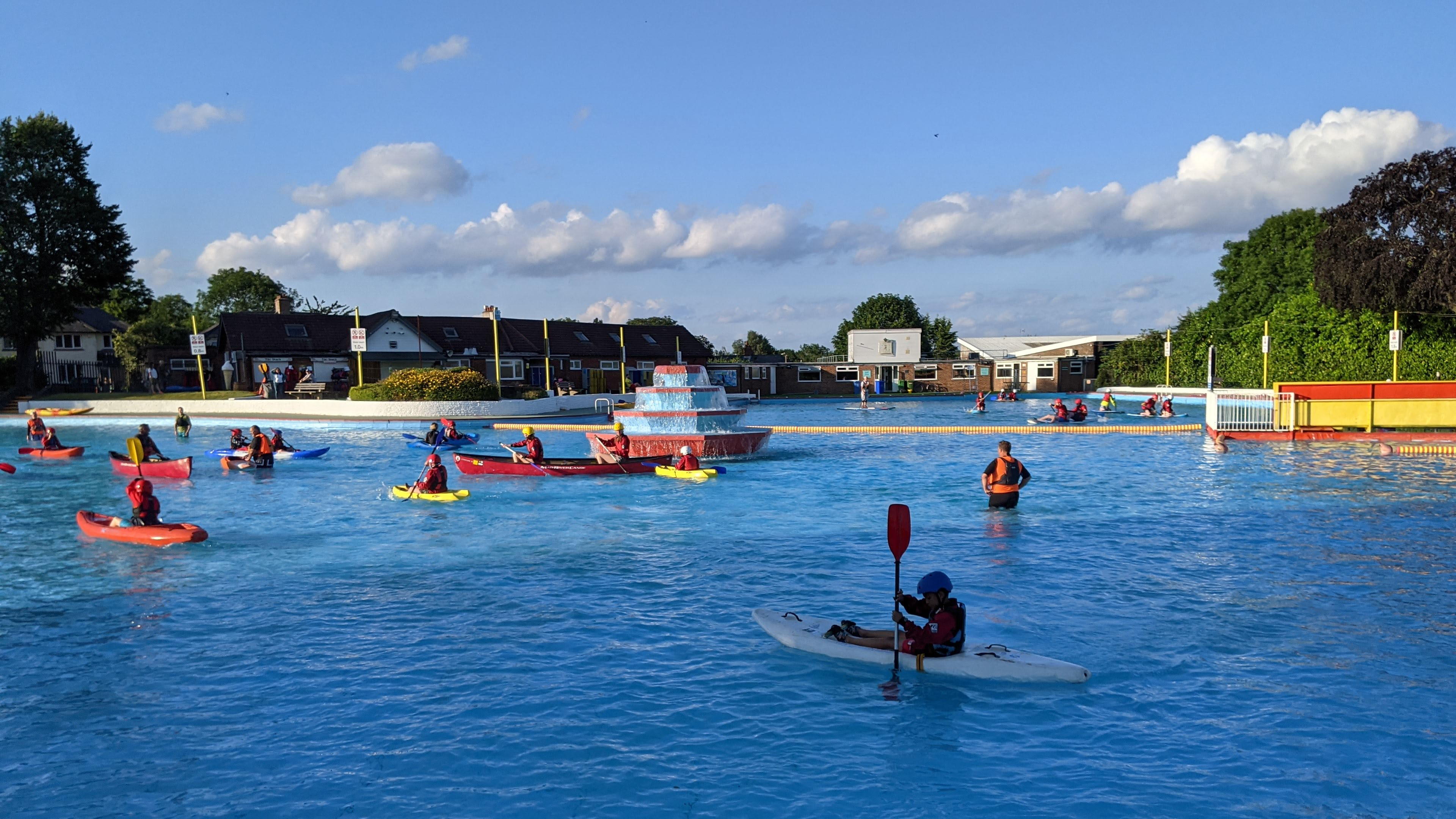 Covid-19
The club is now open to everyone of all competency levels; should the Covid-19 situation change the club may have to return to placing a minimum competency level upon participants. Should this happen participants shall be expected to self-assess at what stage they can suitably participate. The club may increase or decrease the stage at any point so please check back against the event or guidance to check the stage before arriving at your activity. See our COVID-19 Guidance for more details on the club's different reopening stages.
Everyone should continue to:
You must register for sessions on arrival (including spectators and volunteers)
Arrive ready to paddle
Bring your own mask and hand sanitiser
Respect venue procedures and one way systems
Make every effort to book in advanced including spectators and volunteers as this will help us speed up the check in process
Payments by bank transfer are strongly advised, where cash is necessary please bring exact money
Masks should be worn and person limits followed in enclosed spaces such as boat stores and changing rooms
Please limit use to one craft per person per session and avoid sharing equipment
All equipment must be washed or sprayed with disinfectant after/ between uses
Adhere to the latest social distancing and official government advice
Read the latest Event Booking Terms regarding club activities
Whilst you will not be required to book equipment, please read and adhere to the latest club equipment hire and usage terms
Select Tickets
PLEASE ADD FULL NAMES FOR EVERYONE YOU ARE BOOKING FOR IN THE COMMENTS
Please select your tickets and make a note of any relevant information that might help us accommodate you at the session in the comments. If you want bookings to appear in your "my bookings" you will require to log in if you have not already done so. You shall receive an email with your booking submission as pending please follow any instructions provided, keeping in mind that your booking shall only be approved and confirmed, if you hold a membership.
All data gathered on this booking and booking consent form will be utilised only for the purposes detailed on this form and will be processed and stored in compliance with the Club's Data Protection Policy and in accordance with all applicable Data Protection laws in effect at the time of publication of this form, including but not limited to, the GDPR which came into effect on 25th May 2018. Further information on the Club's approach can be located on our privacy policy .
Help
For help with event booking contact bookings@bvcc.org.uk
For help with equipment and hiring contact equipment@bvcc.org.uk
For help with password, resets and account registration please contact webmaster@bvcc.org.uk