Covid-19 Guidance and Operating Procedures
Download – Currently Unavailable
Version 5.1, Reviewed: 29th March 2021
We are operating at competency STAGE 3.
All participants will be required to read the Covid-19 guidance outlined below prior returning to any club activities, and this document will apply in addition to our normal standard operating procedures.
The priority for the club remains to protect the health and well being of our members and volunteers and help to stop the spread of Covid-19.
It's important to be aware that not all clubs are re-opening, some are only opening partially or using a phased approach and many may conduct trials and should they not work choose to revert back to closure.
This will not be a return to normal club operations and all members should continue following the government and public health guidelines in the first instance.
Anyone who is symptomatic or suspects they have been exposed must not participate and remain at home.
Use of any of our club facilities, equipment or the running of club activities can only re-commence with committee consensus and as outlined in the following document.
1. About
The following document forms Blackwater Valley Canoe Club's response, guidance and operating produces to members, in order to control the spread of the virus and has been written in accordance to the following publications.
2. Risk Assessments
The following risk assessments should be used in addition to all existing club site specific risk assessments for sessions, training, trips and events.
2. Club Communications
Members are reminded that the only authentic communications used for representation of the club and committee are those outlined in our Authenticity Statement.
3. Club Activities
Members are reminded that only activities (i.e. sessions, events, competitions, etc). promoted through our official website www.bvcc.org.uk are considered organised club activities and covered by our club insurance and waterways licence.
At this time activities may also be subject to last minute changes and/or even cancellations so it is vital that you check both the website event details as well as social media for updates before attending any activity and that in order to attend you must book.
4. Competency
Members should paddle within their current capabilities and be aware that the club shall be reopening in a staged approach that may mean it's not appropriate for all members to participate, so be considerate of those who are not yet able or ready to return. The fitment of equipment is challenging from a distance and we are required to minimise the risk of capsizes or rescues to limit the likelihood of contact.
Participants shall be expected to use the following guide to self assess at what stage they can return. The club may increase or decrease the stage at any point as required.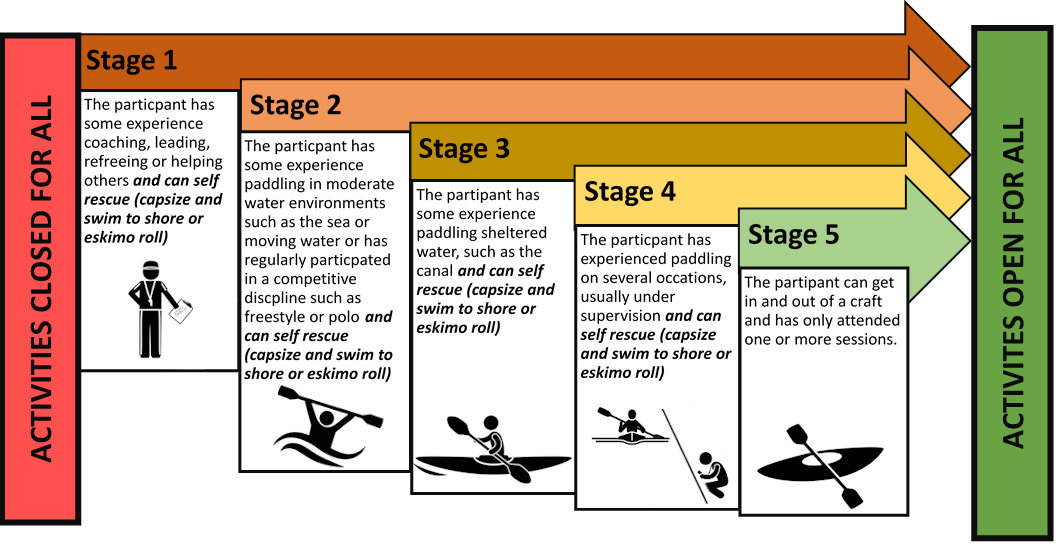 We shall only be opening to existing members in the first instance, however when we do start to allow new members ratios shall be maintained at 1:2 and all participation is still at the discretion of the volunteer(s) supporting the activity at the time. Volunteers/Coaches may choose not to take novices or any members who they are unfamiliar with at this time and this choice should be respected.
The club committee has the rights to empower coaches, leaders and referees to be deployed to run activities. Internal club training is sufficient when deploying volunteers to run an activity, provided the clubs training process has been followed, to ensure those deployed are competent in the environment they are intending to operate. Safety qualifications such as first aid and the appropriate rescue training for the activity is still mandatory and should be up to date. If you have any questions, please do get in touch with us on enquires@bvcc.org.uk.
5. Facilities and Waterways
Outdoor sports facilities can reopen including boat storage areas and can be used for sport, physical activity and exercise.
Indoor activities and use of indoor facilities are not permitted at this time.
All members should turn up at the venue ready to paddle and depart in paddling gear and avoid unnecessary use of enclosed facilities such as changing rooms or toilets. If it is essential and necessary to use such facilities members should follow the hygiene and disinfectant guidelines stipulated by the venue. At no time should more than three indivduals be in any enclosed spaces at any time and these areas should not be used as a socialising shelter.
When using a venue the guidance in this document should be used in addition to any existing club site specific guidance and risk assessment (e.g. Aldershot Lido Site Guide) or any conditions specifically provided by the venue direct in relation to their Covid-19 Procedures (e.g. Hawley Lake Covid-19 Procedures). Canals and waterways may also have restrictions in place around car parks or use and that it is everyone's responsibility to review and check these before paddling.
Use of club facilities for personal use are not covered by the club insurance/ The committee may permit use of facilities for personal use, subject to the specific venues guidance and permissions, at individuals own risk.
6. General Cleanliness
When accessing storerooms it is essential that hands are cleaned thoroughly using alcohol or soap and water prior to using any surfaces, touching equipment, operating locks and handles.
All surfaces that are touched should be also wiped down before/after or where possible limit contact with these surfaces full stop.
All equipment (even if it is your personal equipment) should be rinsed both before and after usage. Any equipment that might be shared, must be cleaned with fresh water and left to drip dry for a minimum 72 hours before it can be used by another member from another household.
7. Equipment
The club is permitting use of club equipment provided you book online and follow the clubs hire terms. If you hold any club equipment that has not been booked, it should be returned to one of the club storage facilities unless you have committee permission to hold it to support others.
The only equipment that does not require booking are polo goals and polo balls but you shall be expected to follow the surface cleaning guidelines to wipe this equipment after use and follow any additional guidance outlined in our canoe polo training and tournaments section of this document.
If equipment is beyond the capability of one person to move/lift/handle then only members of the same household can assist with carrying/moving. You should also transport, move and manage all of the equipment you or your household are using, to minimise contact made with it.
Members should refrain where possible making contact with another members equipment unless the two members are from the same household.
At this time we recommend that crafts that accommodate more than one person (or crew boats), for example a duo kayak or Canadian canoe are only used by members of the same household at this time.
8. Group Sizes and Spectators
Access to the water should be tightly controlled. Contact between members is only allowed if those members are from the same household or during canoe polo contact games (where specific guidelines in our canoe polo section apply).
Everyone is equally responsible for following group size measures and being respectful to other members and waterway users at all times.
Specators
Although evnents and compeitions can take place specators are not permited at this time..
Indoor Venues
Indoor activities are not permitted at this time.
Outdoor Venues
Group sizes should be limited to 6 people per group or up to two households inclusive of the coach, parents and any bankside support members
Parents can only help with their own household juniors but have to be included as part of the group
Club activities can run with an unlimited number of particpants however members should be allocated into a group adhering to the group size limitations and each group should be completely isolated
Groups should maintain social distancing within a group between members (2m or 1m + with face protection), with the exception of canoe polo contact games (where specific guidelines in our canoe polo section apply).
9. Food and Drink
Individuals should always bring their own food and drink. Water bottles or other refreshment containers should in no circumstances be shared.
10. Canoe Polo Training
Competitive canoe polo training is allowed at sessions, provided a few additional guidelines are adhered to.
The use of hand sanitiser before and after training, for hands and equipment, such as balls, goals and paddles.
If members are comfortable, contact is permitted during training. However, this should be limited to periods of 15 minutes. After which, a 3 minute break must be had where hands are sanitised.
All members should refrain from shouting instructions
Spitting and the rinsing out of mouths is now recognised as a risk to health and must not be done.
Water bottles should be individually labelled to avoid cross contamination.
During competitive training and matches, physical contact is permitted, but for all other activities (warm up / cool down) members should adhere to the group and venue guidelines
Members should encourage players to get on with the games and not prolong any setup such as to reduce exposure
Goal celebtraions should be avoided
Although not enforced, British Canoeing has suggested the possibility of adding flexible plastic to the face guard.
Indoor Venues
Indoor activities

are not

permitted at this time.
Outdoor Venues
Participants should remain in their 'team' bubble throughout the session when not playing a game
11. Canoe Polo Tournaments
If and when tournaments and leagues restart, the rules and regulations of the tournament organiser shall require to be adhered to.
12. Events and Trips
We shall review any additional guidance and procedures for events and trips as required on a per event and trip basis.
13. First Aid and Rescues
Ultimately preservation of human life is always the number one priority, so if a situation does arise you are permitted to conduct first aid where absolute required but contact should be kept to a minimum. We should also aim to avoid injury and the likelihood of capsize and the need to rescue. Everyone should be briefed on how to self rescue. If a rescue situation does arise we should firstly encourage a self rescue before engaging with any support. Volunteers/Coaches may choose not to take members who they have not paddled with before, or in a specific environment such as white water to mitigate rescues and this choice should be respected.
14. Track and Trace
We are recommend where possible session and trip organisers print and display an official NHS QR code to support NHS Test and Trace per location that we operate.
We are required to keep a minimum of a 21 day record of who has used club facilities, including paddlers and volunteers, to assist with the track and trace process. It is for this reason that all members shall be required to book online in advance, through our website and only members that book will be allowed to attend.
For booking issues contact bookings@bvcc.org.uk.
For technical issues such as password resets contact webmaster@bvcc.org.uk.

15. Travel and Car Sharing
Where possible we still would like to encourage everyone to paddle locally and minimise distance, the number the journeys and number of shuttles at this time.
Car sharing should be limited to those from the same household or household bubble. This includes travel to and from sessions, trips and inclusive of any shuttles. It is for this reason you must be able to transport your own equipment to all club activities.
16. Vulnerability
We would like to get as many as we can back out on the water, however at this time anyone who is still considered vulnerable by the government should not yet return to club activities, if the government guidelines do not yet permit it. We may not be able to support the needs of all paddlers, if you or your child requires regular assistance getting in/out of the craft or with lifting your craft, you are required to ensure someone from the same household attends to assist. The participant and the assistant are both expected to book and participate so that support required by the paddler can be provided helping to keep our volunteers at safe distances.
Document History
| | | | | |
| --- | --- | --- | --- | --- |
| Version No | Date | Status | Update | Amended By |
| 1.0 | 23/03/2020 | Final | First Original Published as Statement | Gemma Clements |
| 2.0 | 03/08/2020 | Final | Revised from Statement to Guidance and Procedures | Gemma Clements / Alex Tripp |
| 2.1 | 06/08/2020 | Amendment | Amendment for Polo Training | Gemma Clements / Rhys Bryant |
| 2.2 | 16/09/2020 | Amendment | Amendments to align with Advice Published 15.09.2020. | Gemma Clements |
| 2.3 | 26/09/2020 | Amendment | Amendments to groups and track and trace to align with Advice Published 24.09.2020. | Gemma Clements |
| 2.4 | 28/10/2020 | Amendment | Update to allow new members. Align to latest advice on government Teirs. | Gemma Clements |
| 3.0 | 05/11/2020 | Revised Statement | New statement in alignment with latest Government, NHS and British Canoeing Advice for the new national restrictions from 05.11.2020. | Gemma Clements |
| 3.1 | 05/11/2020 | Amendment | Add Sports England update and revise Club Kit section | Gemma Clements |
| 4.0 | 13/12/2020 | New Guidance | Release new Guidance in accordance to latest advice from British Canoeing on 02.12.2020. Align to latest advice on government Tiers. | Gemma Clements |
| 4.1 | 20/12/2020 | Tier Update | Tier Update Text | Gemma Clements |
| 4.2 | 05/01/2021 | Revised Statement | New National Restrictions from 05.01.2021 | Gemma Clements |
| 5.0 | 28.03.2021 | New Guidance | Release new Guidance in accordance to latest advice from British Canoeing on 26.03.2021 | Gemma Clements |
| 5.1 | 29.03.2021 | Remove contact sport specific group sizes for polo | Revisions from Feedback | Gemma Clements |